History of E-Motive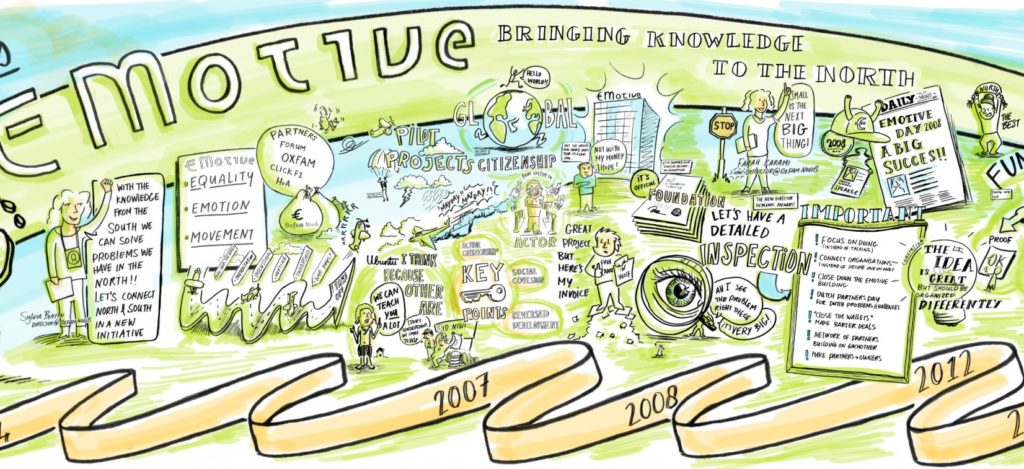 Improve what is near, inspired by what is distant.
E-Motive stands for Equality, Emotion and Movement
E-Motive was launched in 2006 as one of Oxfam Novib's innovative projects. Through E-Motive Oxfam Novib wanted to encourage and support projects in the Netherlands working on active citizenship and social cohesion, by letting these projects benefit from inspiring methods and rich experiences in developing countries.
Although the precise set-up of E-Motive is subject to change, it is always about a programme carried by multiple organizations and based on twin objectives:
to deliver an innovative and inspiring contribution to improving Dutch projects working on social cohesion;
to adjust positively the image of developing countries and international co-operation in the Netherlands, by showing that we can learn from people and methods in developing countries.
Here concepts like equality and reciprocity in the co-operation between the Netherlands and Southern partners take centre stage. And the concept of RDC – reverse development cooperation – saw the light.
The foundation E-Motive was set up in January 2008. The underlying idea was that the foundation would be small, action-oriented, facilitating organisations, working within a large, broad, dynamic and finely meshed network of E-Motive parties. The ambitious Business Plan 2007-2010 elaborates how this structure had to develop.
The foundation and the implementation of the plan did not get off the ground, because inside Oxfam Novib people discussed to what extent this organisation wanted and could play a role in Dutch society, because it proved difficult to find organisations that really wanted to participate in the foundation's board, and because several planned projects did not deliver the expected results. The projects were often strongly supply-driven and did not connect well with the demand in the Netherlands.
E-Motive not only shows that people make the difference, but also that there are more similarities than differences between 'here' and 'there'.
In the second half of 2008 E-Motive therefore paused to take stock and find a new form for a good
re-launch. The form of covenants was chosen. It places centre stage that participants of the covenant are not burdened with governance processes, but each supplies a contents-related and network contribution to E-Motive based on its own strengths.
Early 2009 Oxfam Novib, the University of Applied Sciences of Amsterdam (HvA), Movisie and Mano signed the covenant.
Early 2010 the Programme Assessment 2006-2009 was concluded.1 It comprised the evaluation of 62 exchanges financed by E-Motive in this period. The most important conclusion emerging in the report is: the far greater part of the projects can be qualified as good, and the projects have led to concrete results at the outcome level. The researchers concluded that the concept of E-Motive needs further discussion and formulation, that the role of international partners needs to be improved, that the network of partners needs better management and financing, and that E-Motive's resources have to increase if the programme is really to develop further.
In 2011 Mano left the covenant and NCDO came in as a partner.
In 2012 E-motive developed a successful EU proposal with NCDO, Jeden Swiat (Poland) and La Coordinadora (Spain)
This is a three year program for February 2013 till February 2016.
Watch Carin Boersma at TEDxDelft: Flipping development from top down to listening:
Watch our prezi presentation E-motive projects 2007-2013:
http://prezi.com/ivhx3d5zwxbc/e-motive-projects-2007-2013/#